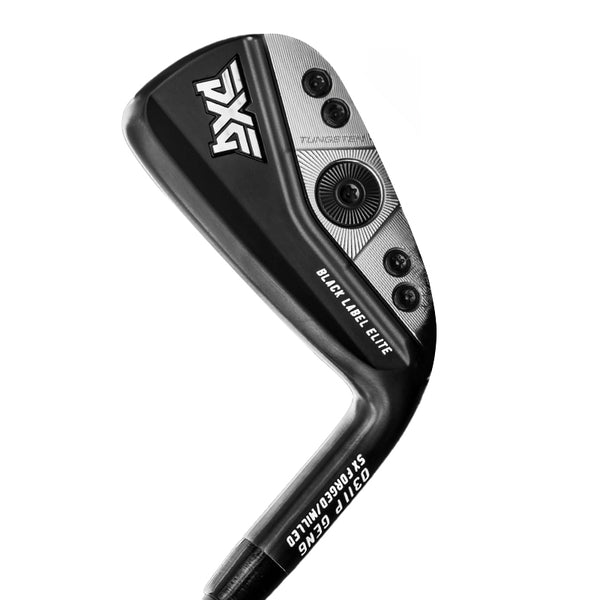 0311P GEN6 IRON 
SET 4-G BLACK
Backed by industry-leading engineering and a relentless pursuit of performance, PXG 0311 P GEN6 Irons provide an ideal balance between workability and forgiveness. These irons feature PXG's patented XCOR2 material, moderate offset, and breakthrough head design with a clean aesthetic. GEN6 Irons advance our original flagship forward and offer an exceptional blend of distance, workability, and forgiveness. Available in Chrome or Xtreme Dark finish.
·Exceptional Distance
·Extremely Fast Ball Speeds
·Outstanding Workability
·Tight Dispersion
·Unbelievable Forgiveness
·Incredibly Soft Feel
·Remarkably Rewarding Sound


TECHNOLOGY THAT PERFORMS
VARIABLE ULTRA-THIN FACE

Since their inception, PXG irons have maintained the thinnest face in golf, and with GEN6 the face is now even thinner. Made from high-strength HT1770 maraging steel, the variable ultra-thin face measures a mere 0.050" (~1.27mm) thick — 15% thinner than previous models. Combined with PXG's proprietary XCOR2 Technology, GEN6 Irons deliver the company's highest C.O.R. performance ever, helping increase distance and forgiveness while also enhancing sound and feel.


XCOR2 TECHNOLOGY
XCOR2 is PXG's revolutionary polymer core material, the result of years of research and development. Extremely lightweight, XCOR2 helps reduce the mass of the core which enables more weight to be positioned low and to the perimeter of the backside of the clubhead, dramatically increasing MOI. Combined with PXG's variable ultra-thin face technology, XCOR2 enhances the C.O.R. for extreme face deflection and out-of-sight ball speed.


POWER CHANNEL TECHNOLOGY
Power Channel Technology is the proprietary U-shaped corridor built into the internal surface of the face to increase deflection and bend in the top sector. The channel creates face movement and transfers energy to simultaneously increases launch angle, trajectory, and ball speed.

5X Forged
Each iron is forged five-times from 8620 soft carbon steel, creating a tight grain structure that increases its strength, prolonging the life of the grooves and enhancing the overall feel and appearance.

Milled Back Surface
Milling the back surface of each iron is a high-precision process that reduces the wall thickness more than forging alone could achieve, to create a high-performance body design and an enhanced aesthetic.
One large weight is located near the CG on the back of the clubhead. This large center weight can be used to achieve optimal swing weight. Unique to PXG, customers can experience the benefits of these adjustments during an in-person fitting. Weighting is not intended to be adjusted after purchase.



Shaft
Dynamic Gold Tour Issue S400 Shafts
Grip
Golf Pride Teams Golf Grip
PXG 0311 P GEN6 IRON SPECS
Club

Lofts

Standard Length (inches)

Standard Lie

Offset

Bounce

#4 

20.5°
38.875"
61°
.220"

6°




#5

23

°

38.25"

61.5°

.190"

7°

#6

26°

37.625"

62°

.160"

8°




#7

30°

37"

62.5°

.130"

9°

#8

34°

36.5"

63°

.100"

10°

#9

39°

36"

63.5°

.075"

11

°

#G

49°

35.5"

64°

.040"

12°